Chances are, if you suffer from food allergies, you'll know all about where you can buy the best products around. Purchasing the same products week in and week out can quickly become extremely boring though - you need something fresh and exciting to liven up your weekly routine! Luckily, UK supermarkets are (for the most part) ahead of the curve with offering new and exciting products often. Which supermarkets have upped their gluten-free game for the festive season?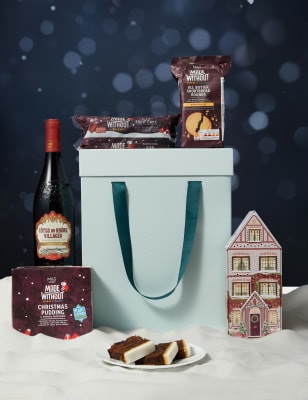 Marks and Spencer's Christmas range
Not only is this new range from Markies gluten free, it's Christmas themed! From gluten free mince pies to a "made without dairy" Christmas bag of chocolate treats, Markies have really pulled it out the bag with this cracker. The Christmas range can ever be made into a fabulous hamper for the allergy sufferer in your life! However, it's not suitable for those with nut allergies – sorry!


Tesco Free From Christmas
The Tesco Christmas range doesn't just stock Christmas classics - it also has deliciously exciting new products, like the salted caramel pudding, or the Gingerbread stars. You can even make your very own vanilla Christmas jumper cake kit - a fab way to spend a festive evening or two! The Christmas range is quite basic at the moment with just a few products, but it might be that there are more added as time goes on. Keep an eye out!
Waitrose Gluten Free Christmas Range
And now for the main event… As you well know, lots of turkeys are stuffed and the breadcrumbs in the stuffing often contain gluten. For those of us avoiding gluten this winter, Waitrose have a fabulous range of unstuffed turkeys, or if you fancy all the trimmings, they also have a Turkey Crown with Shallot & Smoked Sage Stuffing, which contains rice and maize flours in the stuffing instead of wheat flour. If you can't live without your Yorkies, why not try the gluten free Yorkshire pudding mix? And for dessert, grab their dairy free and gluten free fruity Christmas cake.
Asda Gluten Free Christmas Range
Asda probably have the best range of Christmas gluten-free products we've seen – at the moment there are 17 products on their shelves that cater for people with gluten allergies and intolerances. It might be that the closer we get to Christmas, the more products they get – but regardless, 17 is a pretty good start! They have all the basics, like the mince pies and the Christmas pudding, but they also have a few rogue surprises in there for us gluten-free people. The Extra Special Free From Truffle collection is a pretty lovely gift, whilst the Roddy The Reindeer cake is sure to make any little ones in your life happy.
What do you think about Christmas gluten-free product ranges? Have they got better? Worse? Let us know in the MyAllergy forum.