The nights are getting darker and the days are getting colder, but that doesn't mean that your dinner has to be as grey as the skies outside. Sometimes all you want to do is cuddle up by the fire and eat some really hearty comfort food. We get it – us too! In solidarity, we've pulled together our favourite vegan comfort food recipes.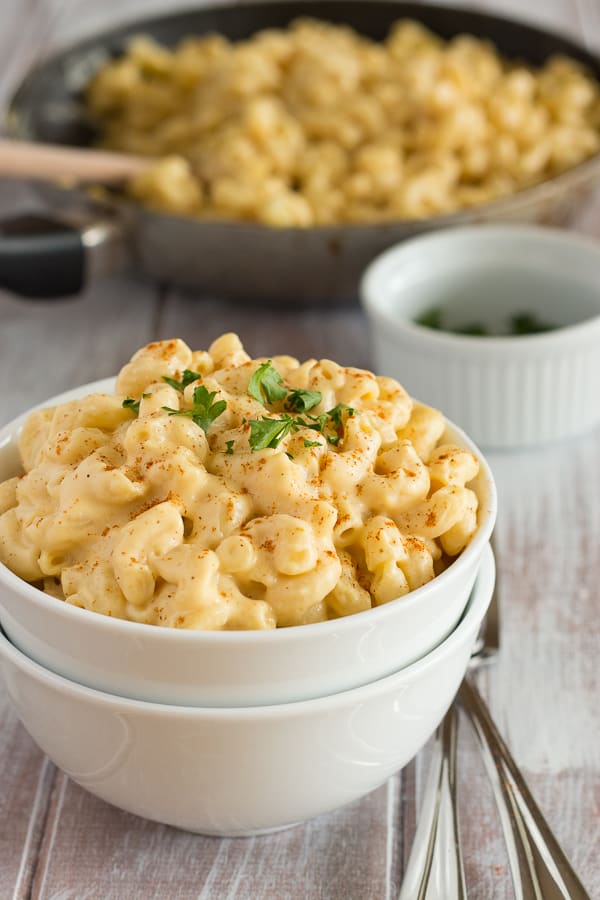 Image source: Vegan Yumminess.com
Vegan Mac N Cheese
I mean, we don't really have to say any more, do we?! Everyone loves mac and cheese and it's the ultimate comfort food treat. We love this recipe from VeganYumminess.com!
INGREDIENTS
• 10 ounces dried macaroni (or about 2⅔ cups) • 1 cup peeled/diced yellow potatoes (or russets) • ¼ cup peeled/diced carrots • ⅓ cup chopped onion • ¾ cup water (preferably use liquid from pot of boiled veggies) • ½ cup raw cashews • ¼ cup coconut milk • 2 tablespoons nutritional yeast flakes • 1 tablespoon lemon juice • ¾ to 1 teaspoon salt (or more to taste) • ¼ teaspoon garlic powder • 1 pinch cayenne pepper (optional) • 1 pinch paprika
INSTRUCTIONS
Cook macaroni al dente, according to package instructions (usually requires boiling for 6-8 minutes in salted water), drain, and set aside.
Bring several cups of water to boil in a small pot. Place chopped potatoes, carrots, and onion in the boiling water, and cook for about 10 minutes, or until vegetables are tender and soft enough to blend. Cooking time will vary slightly, based on how small you have chopped your veggies.
When veggies are soft enough to blend, use a slotted spoon to remove them from cooking water, and place them in your blender. Add ¾ cup of that cooking water to your blender, along with your remaining ingredients.
Blend until smooth.
Pour sauce over your cooked macaroni noodles in a dish of your choice, taste for salt, and serve immediately.
Or, place macaroni mixture in a baking dish, sprinkle with bread crumbs, and bake at 350 degrees Fahrenheit for 15 minutes, or until crumbs are turning golden brown.

Image source: ExceedinglyVegan.com
Vegan Pizza
Why is it that most comfort foods are Italian? For the ultimate in relaxed dining, try this incredible vegan pizza recipe from ExceedinglyVegan.com.
INGREDIENTS
• Vegan pizza dough (most is vegan anyway, you can get that in most supermarkets) • Tomato paste • Oregano • 1/2 red onions (or any onion) • 1 large tomato • A couple of brown mushrooms • Grilled artichokes • Olive oil • 2 handfuls of cashew nuts • Juice of half a lemon • 1 tbsp olive oil • 1/2 tsp garlic powder • 1 1/2tbsp nutritional yeast flakes • Sea salt (or any salt but it tastes best with sea salt) • Dash of pepper
INSTRUCTIONS
Preheat oven to 180C.
For the vegan cheese put two handfuls of cashews (depending on your blender you might have to increase the quantity a bit for it to blend properly) into a small blender, add all other cheese ingredients and a bit of water – make sure you add just enough for it to become a smooth but thick paste. You might have to start with less water and add more water gradually. Blend until you have a smooth paste – you might have to add more salt (cashews are salt hungry) and more nutritional yeast for a cheesier taste. Set aside.
Take the vegan pizza dough, and spread tomato paste on it (cover it well), sprinkle a little bit of olive oil, some garlic/garlic powder and some oregano. Then add the vegan cheese to the topping. Slice tomatoes mushrooms and artichokes, cut onions into rings and add to the pizza.
Bake on a baking sheet or pizza tray for 8-10 minutes or until crisp. Serve with a nice green salad.

Image Source: Natural Girl / Modern World
Mushroom Stroganoff
Don't worry – this one's only got about 10 ingredients, and is as tasty as it is easy to make. Take our word for it, and check out the recipe over at http://www.naturalgirlmodernworld.com.
INGREDIENTS
• 2 tablespoons grapeseed oil, divided • 1 large yellow onion • 1 lb / 455 g cremini mushrooms • 3 cloves of garlic, minced • 2 teaspoons fresh thyme, picked • 3 tablespoons flour (e.g. spelt) • 3 1/2 cups vegetable stock • 7 oz/200g dry egg noodles • 1/2 cup plain almond milk • Salt and pepper • For garnish: Parsley & vegan cheese
DIRECTIONS
Heat a 1 tablespoon of oil in large skillet (or pot) over medium-high heat. While the pot heats, dice onion. Cook onion for 6 minutes, or until it's translucent and slightly golden brown on edges. Meanwhile, cut the ends off the mushrooms and slice. Add mushrooms to the pot and cook for 8 minutes, or until mushrooms have released all their liquids and are golden brown.
Reduce heat to medium. Add remaining 1 tablespoon of oil, minced garlic and freshly picked thyme leaves to the pot. Cook for 2 minutes. Add flour and mix well until vegetables are coated evenly. Then add vegetable stock. Scrape any brown bits off the pan and stir well. Bring liquid back to a boil.
Once boiling, add noodles and non-dairy milk. Use spoon to distribute the noodles so they're fully covered with liquid. Stir every couple minutes to ensure even cooking. Cook uncovered for 8-10 minutes or until the noodles are el dente. Keep an eye on your mixture: if noodles need more liquid, add extra stock in very small increments. Add salt and pepper to taste. Serve immediately and garnish with chopped parsley and cheese of your choice.